This week high level negotiations that will deliver a new or move the Kyoto Protocol in circles begin as part of continuation of the UN climate talks in Durban. The politicians officially join the climate change-centred discussions tomorrow with slim chances of striking an ambitious pact that will bind state governments to answer for their carbon emissions if they fail to reduce them in a given time.
United Nations Secrtetary General Ban Ki Moon ( who is already on the continment) and South African President Jacob Zuma will open the high level segment of COP17 and the 7th Conference of the Parties (states) serving as the Meeting of Parties (CMP7) on the afternoon of December 6.
The politicians join the climate change conference at a time when several civil society organizations are lobbying for new binding framework to the Kyoto Protocol and reduction in carbon emissions, which cause variations in climate. But conditions for an extended and sharpened Kyoto Protocol from major players like the European and China led group of G77 are coming in the way of successful talks. Though there is general need for a refreshed Kyoto Protocol, the guts to have it delivered appear low.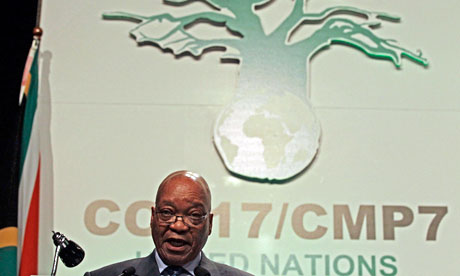 President Zuma at the laucnh of COP17 on Nov. 28
Already the United States, a major carbon emitter per capita, has said commitments to reducing the emissions in the Kyoto protocol should be extended to 2020. But majority of the negotiators are unwilling to buy into this. This afternoon a group of civil society executives under the umbrella of Climate Action Network (CAN) International lashed at the US stance and called on the Obama administration to either step up the fight on the negative effect of climate change or stop blocking efforts to achieve an agreement that will compel countries to reduce carbon emissions and save the poor countries.
"The U.S. is pitching an alarming narrative," said
Celine Charveriat, Director of Advocacy and Campaigns at Oxfam
, in regard to the decade long time frame the U.S government delegation at COP17 argues for as new targets to lower emissions. "This perilous course must be stopped dead in its tracks. The world's poorest people, who are already suffering the impacts of a changing climate, cannot wait until another decade for action to bring emissions in line with what science so clearly requires," Charveriat said.
More strong statements are likely to be fired at any nation that proposes different opinions other than those the African Group, AOSIS and LDCs want to hear from Durban. Kumi Naidoo, Executive Director, Greenpeace International, said on December 3, the US negotiators "eviscerated draft language on mitigation that would have offered real protection to those who are being hardest and fastest hit by climate changes that are already happening. The time has come for the US to stand aside. If it is not willing to save lives, save jobs and save whole ecosystems then it should get out of the way and let those who are willing move on. Any failure to move beyond US obstructionism will be measured in lives."
In a country where most of its people spent 8 years debating the reality of climate change, Kumi's statements could be dismissed as blackmail. But the fact is climate change is real and is taking its toll on both the poor and rich countries though in different intensities due adaptive mechanisms.
In Durban, outside the venue of COP17, different groups have been holding demonstrations calling on UN climate talk negotiators to save the world's poor farmers from impact of climate change. It remains to be seen if that call will be heeded.
That said, the lobbying for a better deal from the Durban COP17 is an ongoing process. The 6 days left to end the two week long discussions remain critical for the life of the Kyoto Protocol that expires next December. Uganda's Water and Environment Minister, Maria Mutagamba who joined the talks today told the Uganda delegation that optimism should be kept as she urged the African Group to remain united in their position for a refreshed Kyoto Protocol.
"We're not done here. But what this process is not delivering ambition on emissions reductions. And that is not the fault of the process. It is the fault of governments like the United States. In fact, there is not a single scenario on the table right now that allows us to avoid runaway climate change…while politicians continue to bicker around the edges of the negotiations, we will be looking for leaders arriving this week to engage on the real issues here. Civil society members are here to address the urgent threat of climate change and ensure a future world where there is enough food, water and energy for all. It might be good to ask governments why they're here," said Jim Leape, Director General, WWF International.